3 minutes reading time
(525 words)
15% off World Magic Candles and Oils restocking sets and mixed cases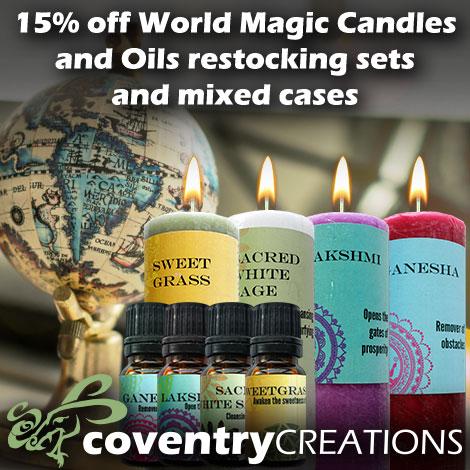 Our March wholesale special brings to you 15% off World Magic candles and oils Restocking Sets and Mixed Cases. The Restocking set is your easy button. You'll get 3 of each world magic product with one click. Our mixed cases give you're the freedom to get 12 of whatever you need.
Candles and oils sold in separate cases. You want 12 Ganesha candles and 12 Sacred White Sage oils – they are yours with 1 mixed case of Ganesha candles and one mixed case of Sacred White Sage oil bottles. Please tell us your selection in the comments on the website.
Ganesha, Lakshmi, Sacred White Sage, Sweet Grass World Magic Candles & Oils
Restocking set - 12 World Magic Candles, 3 each
reg. price $117.00, sale price $99.50
Restocking set - 12 World Magic oils, 3 each
reg. price $48.00, sale price $40.50
Mixed case of 12 World Magic Candles, your choice
reg. price $117.00, sale price $99.50
Mixed case of 12 World Magic oils, your choice
reg. price $48.00,sale price $40.50
Join our Witches union and stock up on all witches union swag. This month we are featuring the Protection Invocation patch. It comes with an invocation for protection and a very cool patch with a crow on it. Read all our articles and blogs about what protection means to a magic maker in the Coventry Witches Union. Be sure to order your Spell Caser Club membership kit. Comes with spell cards, membership cards and a 2 pocket display. We will send you a new spell card every month. It's fun and adorable.
Witches Union Protection Invocation patch $3 each
Witches Union Protection Invocation patch is a symbol of a powerful magic wielder. A witch who is adept at protection knows how to strike fast and strike hard. There is no room for fluff in protection magic and there is no room for doubt. Don't start none, won't be none...but I got some if you try.
Spell: Holding your patch in both outstretched hands, face each cardinal direction and call to the guardians who will protect you and yours. Hold your hands high and ask for divine protection. Touch your hands to the Earth and ask that you are held safe upon her. Anoint the patch with protection oil and repeat the saying upon the patch. "With the wrath of the dark Goddess, I protect me and mine from all harm.
Look to each corner of the world for inspiration
The world is our oyster and gladly provides beautiful ways to keep life joyful, and safe with enough for everyone. Treat her with respect and love and she will continue to be generous with us. Our World Magic line of candles pull in magic from the four corners of the world to teach us how to love one another, be grateful for what we have and know where it all comes from. Show your customers these gorgeous altar candles and anointing oils. They are for creating sacred space at home and enhancing the culture of their life.
For more news about this month's special and upcoming specials visit our wholesale website, Type 40 Sales.com
Related Posts
Comments
No comments made yet. Be the first to submit a comment