1 minute reading time
(276 words)
Blessed Herbal Oils don't melt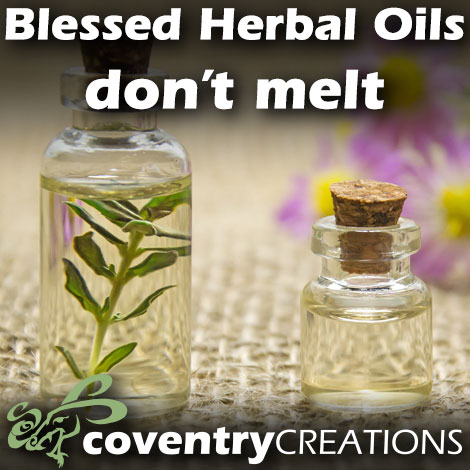 The most excellent sale continues to the end of August. Please take advantage of it and don't forget about our awesome displays. We are now selling them without having to purchase candles. Check out our website or call us for more details.
Blessed Herbal candle Restocking Set 15% off
3 each of 18 (54 candles), reg. - $337.50, sale price - $287.00
Blessed Herbal candle mixed cases 15% off
25 candles, your choice, reg. - $156.25, sale price $133.25
Blessed Herbal Oil restocking set 15% off
3 each of 16 (48 bottles), reg. - $192, sale price - $163
Blessed Herbal Oil mixed case 15% off
12 bottles, your choice, reg. - $48, sale price - $41
How hot is it? It's so hot we've looked into space-age technology to keep our candles from melting during transit. Until that piece of the puzzle is figured out, consider this. Our Blessed Herbal oils don't melt. They aren't bothered at all by the heat. When placing your order this summer think about our amazing magical oils. Oh, and sprays don't melt either.
NEW! Witches Union Meditation patch
Featured this month is the Witches Union Meditation patch. Yes meditating is as old as the hills, but your customers are not. Some of them are quite young and just beginning to awaken to the world of the mystical and magical. Let us help you direct and inspire the youth with our Witches Union patches. Be the cool store that makes awakening fun. The gift will be returned threefold.

Order online or call us 800-810-3837 with your questions and order. For more news about upcoming specials visit our wholesale website, coventrywholesale.com
Comments
No comments made yet. Be the first to submit a comment