2 minutes reading time
(389 words)
It's a wicked good sale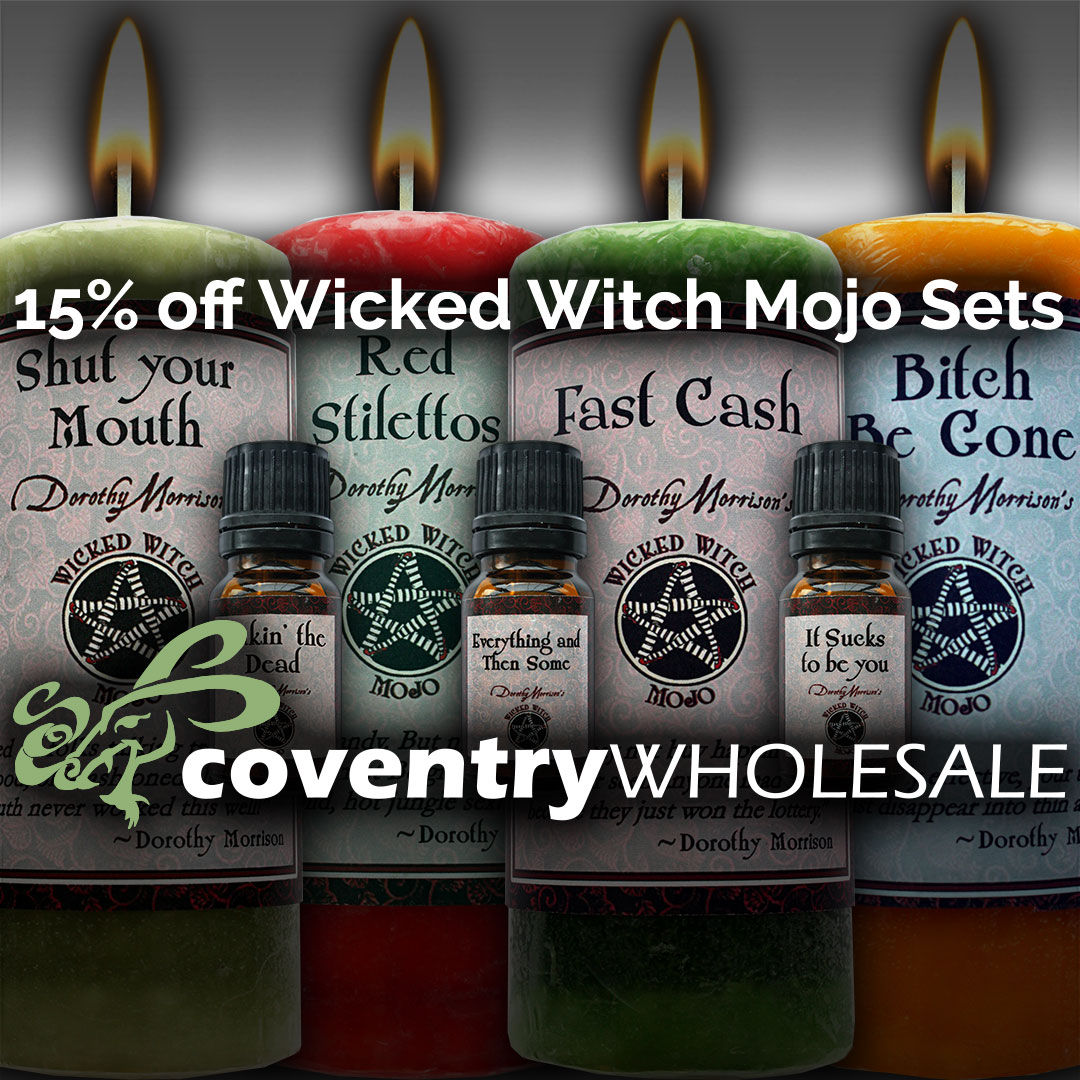 The witch is back with an enticement to put her whimsical products in your store. We offer 15% off sets of Wicked Witch Mojo candles or oils to restock or introduce. They are sure to put a giggle in each and everyone of your customers.
What a fun way to show them to the ways of the witch? Deep down we all believe in making wishes. Our Wicked Witch line of candles and oils pave the way down the yellow brick road to personal empowerment. No wizard of OZ needed here.
February Sale
15% off restocking sets and mixed cases of
Wicked Witch Mojo Candles and Wicked Witch Mojo Oils
WWMJ-RS –Wicked Witch Mojo Candles - 3 each of 15 styles - $210.50 ($247.50 reg price)
WWM-MIX - Sixteen Candles, your choice - $74.80 ($88.00 reg price)
WWMO-RS - Wicked Witch Mojo Oils - 3 each of 15 styles - $153.00 ($180 reg price)
WWO-MIX – Wicked Witch Mojo oil – your choice of 12 oils – $40.80 ($48.00 reg price)
*Sets are as described, no substitutions.
February Feature
(Limited Edition Dorothy Morrison candles)
Extreme Bad Ass $5.50ea
Hot Damn $5.50ea
Rich Bitch $5.50ea
St. Dorothy the Wicked $5.50ea
Limited Edition candles are available this month only and while supplies last.
Three easy ways to get some Wicked Witch in your store.
1 - Call your Account Manager and get the scoop on what's hot
2 - go online at coventrywholesale.com and order 24 hours a day
3 - call us at 800-810-3837 for customer care where we can take your order, answer your questions and make you smile
Dazzle your customers with being a Coventry Creations magic maker!
Follow blogs on coventrywholesale.com and coventrycreations.com,
Find us on Facebook @coventrycreationscandles, @coventrywholesaletype40sales,
Follow us on Instagram @coventrycandles and Pinterest, Coventry Creations.
Become a source of our FREE Spell Caster Club spell cards and membership kit. Order your Witches Union membership kit and we will send you a POP display with 10 spell cards and 20 membership cards. We send new monthly spell cards every order to keep your customers coming back every month. It's fun and engaging for your your customers and an easy up-sell for you. Join our Witch's Union Facebook Group https://www.facebook.com/groups/WitchesUnionSCC and see how much your customers enjoy magic and use it in their daily lives.
Comments
No comments made yet. Be the first to submit a comment