1 minute reading time
(255 words)
Make affirmations not resolutions this New Year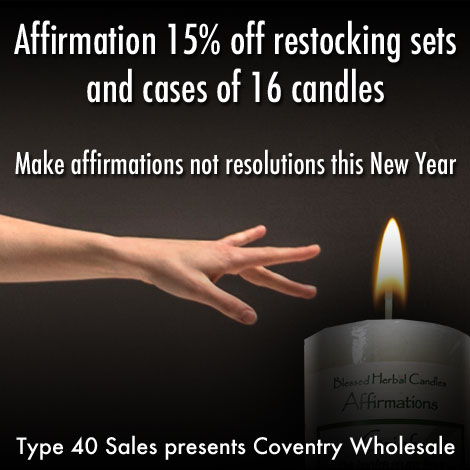 Teach your customers that a resolution is better when backed up by an Affirmation
Case of 16 Affirmation candle - your choice, $74.75
Affirmation Restocking set - 3 of each of the whole line, $210.50
We approach the New Year reflecting on what changes we'd like to make in our lives.
The temptation to set grandiose resolutions is inevitable. Promises easily made are easily broken. An affirmation on the other hand slowly works its way into your lifestyle and help you make lasting changes. Make your resolution more powerful with a candle from our Affirmation line. Here's a few example of how positive affirmations can turn things around and keep them there.
Inner Beauty - When you feel beautiful on the inside, the outside will match.
Success - Every failure is a lesson in success, every success is a collection of wisdom.
Love - When love is your affirmation the things that block or distract from that positive energy becomes apparent and easy to let go of. People who resonate with love become closer to each other and expand upon this magic.
Prosperity - When you recognize and express gratitude for what you have, it multiplies.
Intuition - You are always connected to the divine. Affirm that you are in tune with your highest good and your inner voice becomes clearer and louder.

We have the perfect Affirmation for you to start the 2018 year.
Don't forget to sign up for our newsletter here for more Coventry magic delivered right to your inbox.
Comments
No comments made yet. Be the first to submit a comment