2 minutes reading time
(413 words)
Motor City Hoo Doo Candles and Oils, 15% off Restocking Sets and Mixed Cases!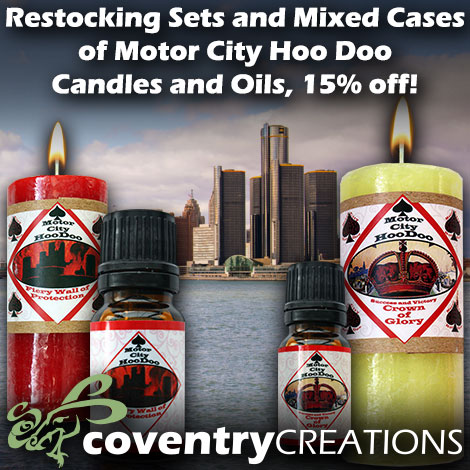 Wanna get lucky? Stick with our Motor City Hoo Doo lines and it's a done deal. This line of candles and oils are your customer's way to the golden ticket with humor, grit and serious practicality. We've paired this line with our Crown of Success Witches Union patch to show that anyone, anywhere who puts the work in can get things going their way with the help of Motor City magic.
Jacki and Patty are sisters from the D and they know personally the miracles that can happen when you stick with it and reinvent yourself when necessary. Many powerfully inspiring people have roots in Detroit. We are hardy people who believe that so much more is possible when you work together to bring a vision to light.
15% off Motor City Hoo Doo Candles
Restocking set – 3 each of 22 Styles (66 candles) $363.00 Sale price $308.50
Mixed Case – 16 Hoo Doo Candles – your choice $88 Sale price $75.00
15% off Motor City Hoo Doo Oils
Restocking set – 3 each 8 styles (24 bottles) $96 Sale price $81.50
Mixed Case – Your choice of 12 oils $48 Sale price $$40.50
Witches Union Crown of Success Patch $3.00 each
May is the month to stock up on your Motor City Magic. Show your customers the practical side of setting themselves up for success with Hoo Doo candles and oils. We are positive they will want to invoke the silver tongue like John the Conqueror, or attract more clients with our Querent caller. Maybe they need to learn about the Fiery Wall of Protection where none shall pass once it's up and burning bright. Our Recover lost Money candle and oil will help them remember where they put that $20 bucks or highly motivate the party that still owes them money to get that business taken care of. On and on it goes with the down to brass tacks magic this brand of magic provides. Call us and place your order and get 15% off restocking set. It's our version of the easy button. You'll want to makes Hoo Doo available for sale in your store right away.
May's Spell Caster Spell card give the recipe for guaranteeing our own success with 4 coins, a 1 dollar bill, a square of gold fabric, and 4 candles. Your spell cards will be included in your May order.
For more news about this month's special and upcoming specials visit our wholesale website,
Related Posts
Comments
No comments made yet. Be the first to submit a comment